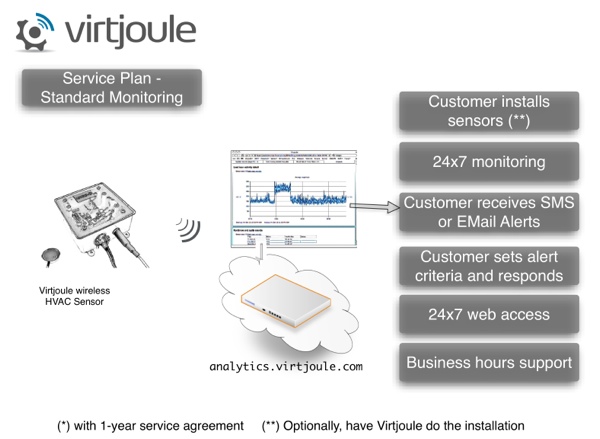 • Customer's handyman installs
• Stick it on and then plug it in or tap the 24 VAC transformer on the unit for power
• Standard monitoring pricing includes hardware and cellular service. Sensor shipping is additional.
• Via web app, customer creates entities for company(ies), buildings, and units and assigns a new sensor to each new unit
• Via web app, customer sets up the kind of alerts they want to receive including timing, days, out-of-hours, non-operation, and over/under cycling alerts
• Virtjoule Support and help site can give advice to help set up alerts and advise customer on what to look for
• Customer receives alerts and decides on appropriate response...anything from adjusting thermostat schedules to calling their HVACR service for a repair
• Virtjoule Support and help site can help customer understand alerts and reports to decide on appropriate response
• Via the web app, customer can see reports including total run time for the month and total out-of-hours today and for the month.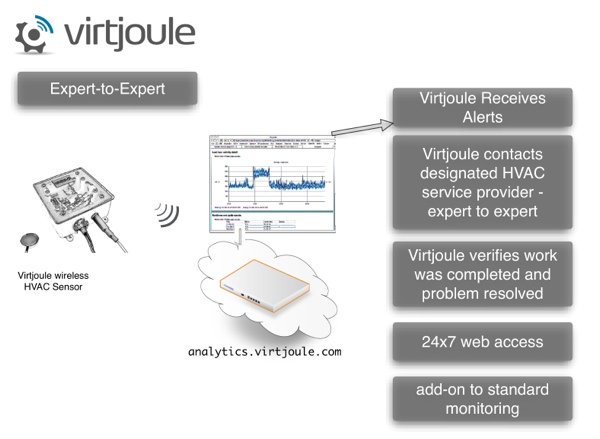 • This is an add-on service to standard monitoring
• Virtjoule turns into the customer's advocate
• When you don't have the confidence or the time to handle alerts
• Virtjoule will work with the customer to understand needs and set up alerts
• Alerts come to Virtjoule support
• Virtjoule helps makes the determination whether a service call should be made
• Virtjoule will also notify up to two other individuals, like a store manager or other management, to alert them to the problem and let them know what the plan is for a fix
• Virtjoule can clear any service call with customer first to avoid service calls the customer is not willing to pay for
• Customer must provide approval for Virtjoule to act on its behalf
• Customer must provide contact information, company, names, phone numbers, and email for their service provider
• Virtjoule will watch sensor results for behavior change that validates the fix occurred and close the loop with the customer
• Calls are documented
• Closure is documented
• Service depends on working Standard Monitoring installation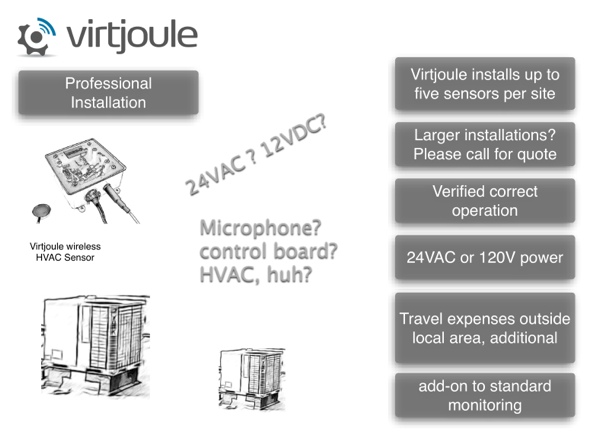 • Virtjoule's sensors are easy to install, but the customer might not have ready access to a handyman
• Customer needs to provide access to the building including ladder, lock keys or combinations, or provide an individual to give access to the equipment
• In the case of tapping the 24 VAC transformer for sensor power, customer must allow the unit to be shut down for 10-15 minutes.
• In the case of plug-in power, customer must have a working 110 VAC outlet
• Travel expenses and per diem charged for travel outside local area
• Local area is the Colorado Front Range area
• Virtjoule may outsource installation service to a qualified local service or handyman company depending on availability and location
Blog
•
Virtjoule's blog
is technical and in-depth. From the articles, you can see how Virtjoule has helped others, how it's done, and what the benefits can be.
Call us!

• Call us at 1-800-658-1864 with any questions you may have.